ECOPRO BAMBOO FIBER - 11PCS SUNSET MIST PURPLE BRUSH KIT
السعر

400.00 LYD

سعر التخفيض

145.00 LYD

سعر القطعة

لكل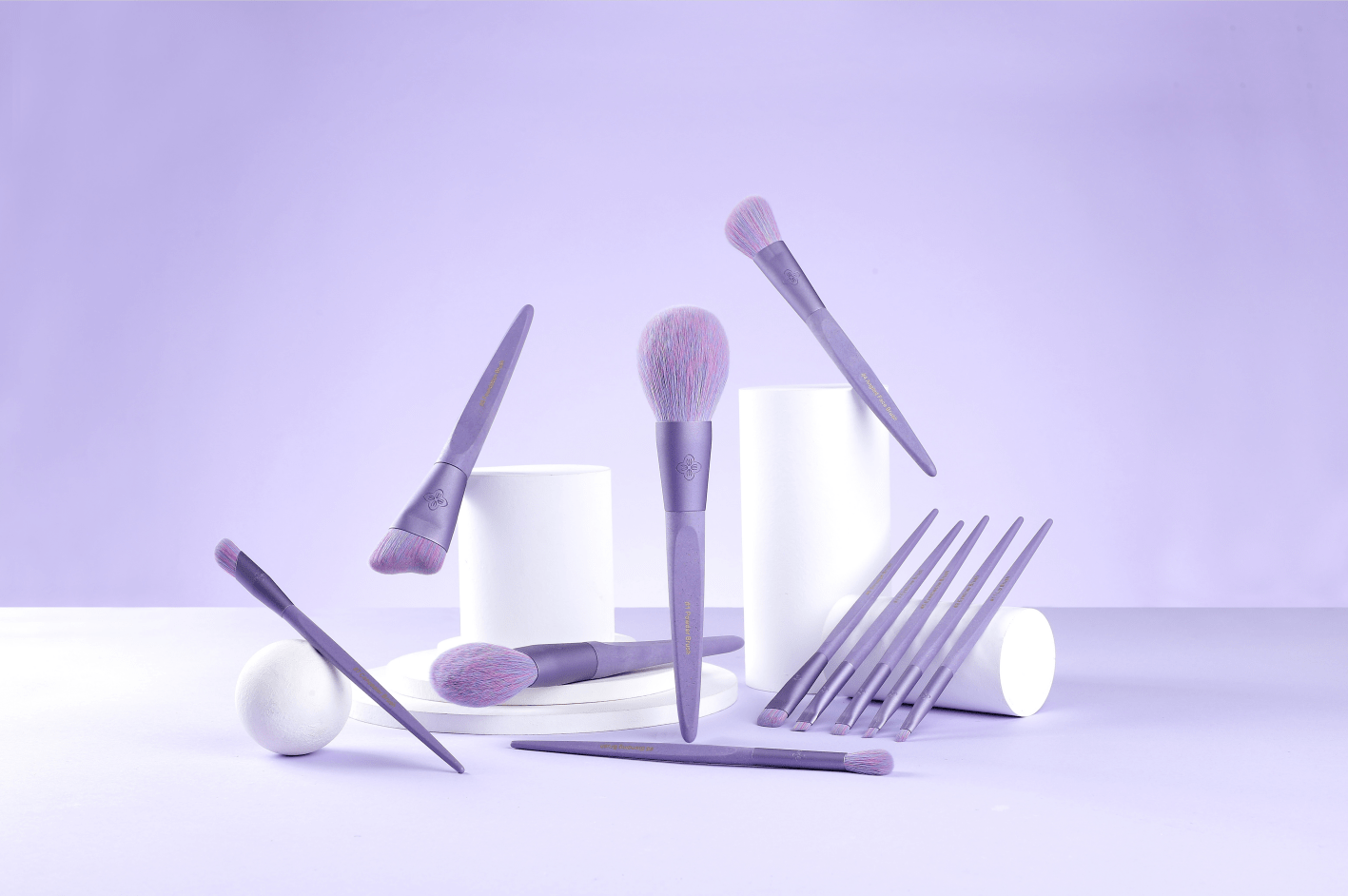 #1 Large Powder Brush
Why you need it:With its' long, fluffy bristles, this brush is perfect for distributing evenly powder onto your face without dispensing too much of it (so it doesn't look cakey).
How to use :
Dip the brush in the powder and (tap—don't blow—off) any excess before lightly sweeping it evenly across your forehead, nose, and chin, Load up the  product to "bake" your makeup or use a light dusting to quickly set your foundation.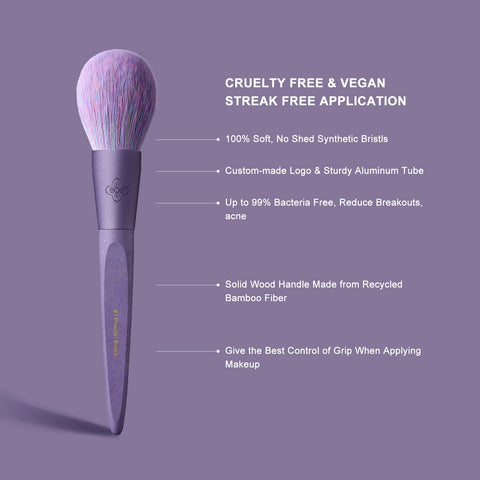 #2 Blush Brush
How to use it: Sweeping motions, Start at the apples of your cheeks and blend upwards toward your ears.
Why you use it: The soft, fluffy bristles and slightly domed shape of the brush deliver a more concentrated (and precise) application of color.
#3 Foundation Brush
Provides quick, detailed converge for an even, seamless finish.
How to use:
Tap brush very lightly on foundation, Then buff In circular gently onto skin. starting at the center of your face and moving out toward the perimeter.
#4 Angled Face Brush
Why you need it: This face brush gives you fine precision control over the angles. To achieve angular, defined cheekbones and facial structure. 
How to use :For bronzer, loosely sweep the brush in a "3" pattern, starting from your forehead, cutting across your cheekbones, then moving back out and down to your jawline. For blush, lightly swirl the product on the apples of your cheeks and blend it up into your cheekbones.
#5 Eyeshadow Brush
How to use it: Smooth a small amount of eye shadow primer onto the entire lid with your shadow primer brush, blending up and out toward the brow. Try to apply as close to the lash line as possible. Use a smaller concealer brush or base brush to blend it evenly.
Why you need it: This Shadow Primer Brush gives you an effortless and flawless eye look in no time. Shake up your beauty routine while apply your favorite shadows with this ultra-soft, easy to use, loving brush.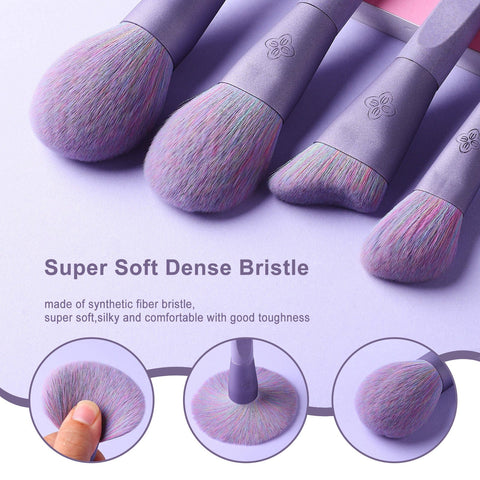 #6 Smudge Brush
HOW TO USE: Using the smudge brush end of your pencil, blend your lower lash line dashes together, startinga from the inner corner to the outer. Do the same on your top lid, starting from the outer corner to the inner. Smudge until you feel got the soft finish you want.
WHY YOU USE IT: A smudge brush is perfect for applying and smudging, dense bursts of color. Whether you use it to blend in a kohl liner or heavily pigmented shadow, a smudge brush can help you apply color where you want it without a mess.
#7 Concealer Brush
HOW TO USE: Deposit the product with the Concealer Brush and then use the pads to blend it in carefully and apply to the spot you want to cover.
WHY YOU USE IT: a concealer brush is a small makeup brush meant for applying and blending out liquid, cream, and powder concealer formulas
#8 Small Blending Brush
How to use it: Swirl your brush over a powder eyeshadow plate or highlighter, tap off the excess, then lightly blend the brush over the tops of your eyelid or upper eyelid, Cupid's bow, and anywhere else the light naturally hits your face.
Why you need it: If you're applying more than one eyeshadow, you must follow the golden rule: blend, blend, blend. Featuring wide, flat bristles and a slightly tapered head, this brush lets you smooth and blend your eyeshadow for an Instagram-worthy finished looking.
#9 Eyeliner Brush
How to use it: Dip the brush into your eyeliner and apply a thin line of color directly to your upper or lower lash lines. Brush over with Liner Sealer for instant waterproofing.
Why you need it: This brush is angled to hug the shape of the eye and is ideal for creating a variety of looks. It can be used to draw precise thin lines, smudge, or to create a classic cat-eye.
#10 Eye Brow Brush
Why you need it: Brushes are used to blend makeup and keep eyebrow hairs in place and help to evenly blend product and make the eyebrows look more natural.
How to use: Use the spoolie brush to comb your eyebrow hairs upward. Dip the brush into your favorite emollient-based brow product and begin to outline the lower arch of the brow. Then, comb the hairs downward and begin filling in the tail of the eyebrow in the direction of hair's natural growth.
#11 Lip Brush
How to use it: Sweep the brush over the tip of your lipstick and sketch along your natural lip line. Reload the brush and carefully fill in the rest to finish. 
Why you need it: You can easily get a crisp, clean application that doesn't stray outside the lines. (This is especially helpful when you're using darker shades like red or burgundy.)
Share