Toxicated Series-15 pcs Gentle Wind Professional Makeup Brush
السعر

سعر التخفيض

140.00 LYD

سعر القطعة

لكل
What is it?
EIGSHOW BEAUTY's GENTLE WIND SERIES is the answer to the professional brush kit for makeup artists. This multi-tasking face brush + eye brush kit was designed to hug the natural blending and sculpting of eyes and face which was built to work with gel, powder, cream and liquid products, and it comes with 15 brushes that perform a wide variety of makeup tasks, plus a washed kraft paper bag with its own carrying case that just the thing for your makeup brush storage needs.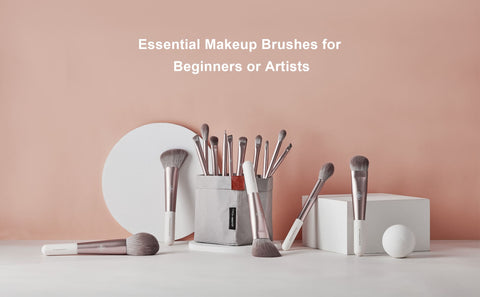 How To Use
Each brush in the kit has its unique purpose.The specialist eyebrow brush is for sketching, shaping and defining your brows.The professional lip brush contours and infills to enhance and promote your lip's best features.
A set of brushes (angled contour, foundation and powder) apply foundation, shadow, and use with tapered highlighter brush, nose shadow brush to shape and sculpt your face. A precision concealer brush comes in handy to highlight desired areas and help you disguise blemishes and under-eye circles for a flawless finish.

The range of brushes for applying eye shadow and blending for special effects come in the ideal size and shape. Use Shadow Primer Brush for emphasizing the eyelids. Change the perceived shape of the eyes with an angled Eyeliner Brush and microliner brush.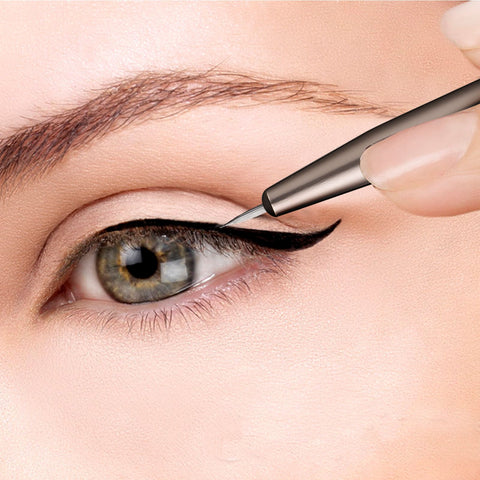 The 15 Piece set comprises of:
1# Powder Brush - It's designed to use with pressed or loose powder products, like setting powder, finishing powder, powder foundation, or powder highlighter.
2# Blush Brush - Softer, fluffy angled brushes are great for applying blush, bronzer and highlighter.
3# Angled Contour Brush - A contour brush is thinner than a regular powder brush and is used to define your cheekbones and create a sculpted look.
4# Foundation Brush - It completely changes the finish you get- -and can even make your makeup look like a completely different kind of product.

5# Highlight Brush - It's a slim, tapered brush designed for precision highlighting on the cheekbones and brow bones to achieve a strobing effect
6# Precision Concealer Brush - It's mini but mighty- -this small, angled concealer brush is designed to easily reach hard-to-hit areas and corners of your face for even coverage.
7# Smudge Brush - This short curved smudge brush is the perfect shape to expertly smooth in color along the lash line for a smoky look.
8# Nose Shadow Brush - The brush is useful for contouring the nose by applying darker shades to the sides and highlighter or lighter tones to the top of the nose.

9# Shadow Primer Brush - It is a professional quality eye primer brush designed to blend shadow primer or cream shadows onto lids evenly.
10# Large Blending Brush - This large and fluffy brush with a tapered tip blends out shadows and allows for soft washes of color.

11# Small Blending Brush - This small blending brush is perfect for blending cut crease and blending under the eye to create a drop shadow.
12# Angled Eyeliner Brush - This brush is angled to hug the shape of the eye, and it is ideal for creating a variety of looks. It can be used to draw precise thin lines, smudge, or create a classic cat-eye.
13# Lip Brush - It is used to apply lipstick or lip gloss evenly onto the lips.
14# Microliner Brush - Whether you're delicately blending along with the inner corners, drawing super-thin lines, adding highlight or
blurring between the edges, just about any look is within reach with this makeup brush in your kit.

15# Eye Brow Brush - It helps to blend the product and make the eyebrows look more natural evenly.
Materials
Premium synthetic fibers - Just as soft as natural animal hairs. Better for holding, applying, blending products than animal hairs.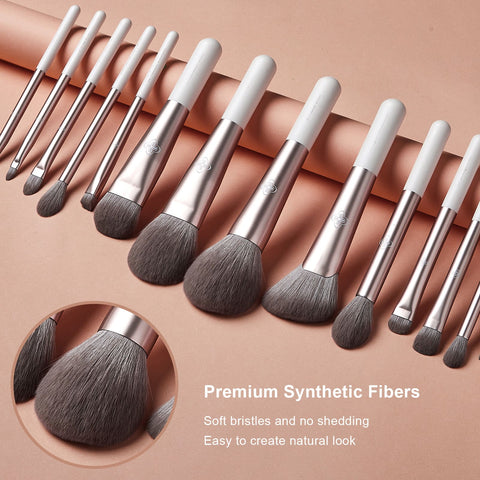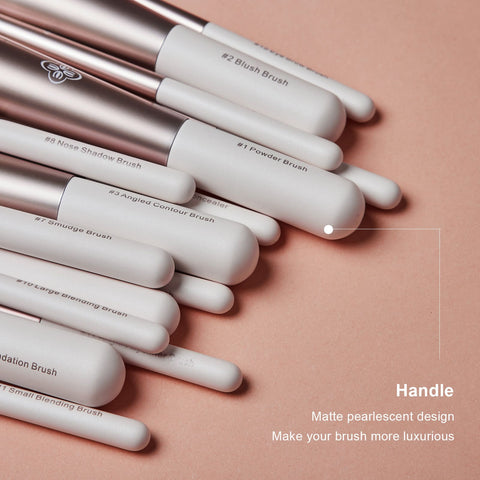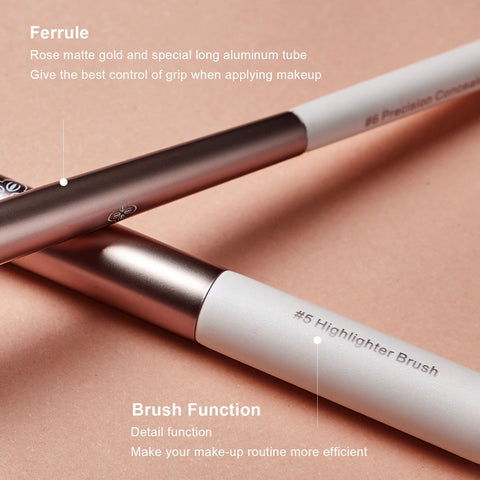 Pro Tips
To achieve flawless results consistently and quickly requires the right tools and practice. Spend time getting to know what these expert brushes can do for you, and you increase your range of techniques for when you are aiming for that distinctive look.
Experiment regularly with new techniques, different cosmetics, and using different brushes – you don't need to wear the look outside, but by playing and discovering what your tools can do in your hands, you can rock a new look with confidence.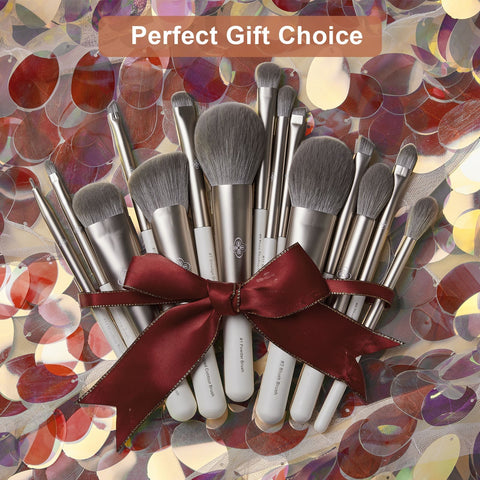 How to Clean Your Make Up Brush

Step 1:  Lay the brush face down with its bristles closest to running warm water. Pinch the bristle fibres and gently squeeze any makeup residue or excess water.

Step 2:  Place a dime-sized dollop of olive oil (for natural bristles)  and mild soap onto your palm or apply directly to the bristles after running under medium warm water to remove excess makeup.

Step 3: Massage the brush bristles onto the soap solution on your palm while letting the water run through the bristles. Move the brush bristles in a soft gentle circular motion.

Step 4: Once the running water through the bristles become clear, stop the water. Make sure you're not submerging the bristles or getting the ferrule wet

Step 5:  Using a towel, softly squeeze out whatever excess water is left in the brush.  Air-dry the bristles in an area with free-flowing air.
Share