MORANDI SERIES -10 PCS READY TO ROLL BRUSH SET- CORAL
السعر

سعر التخفيض

135.00 LYD

سعر القطعة

لكل
What is it?
It is a very practical set of makeup brushes with a very stylish look and coral is the Pantone color trend this year.  multifunctional brush is perfectly suited to achieve a diverse makeup look. Comes with a portable makeup bag.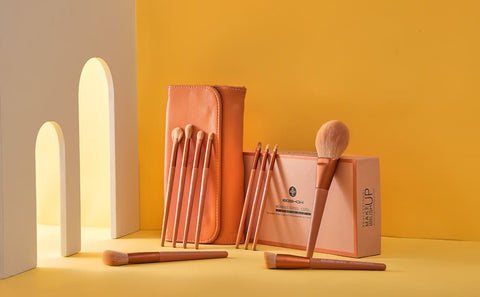 Materials

This product is VEGAN set made from corn starch, a natural material. The bristles are soft and unyielding.
The brush handle is simple and stylish, and the frosted surface is very comfortable and not easy to produce fingerprints.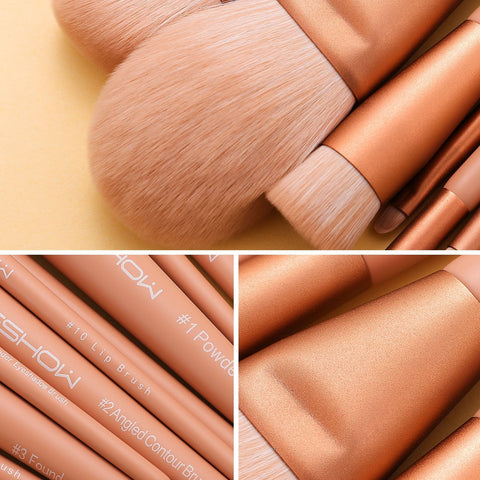 The 10 Piece set comprises of:
1#-LARGE POWDER BRUSH
Large round brush head with fluffy, dense bristles.Seting makeup will be faster and flawless with this brush.Perfect for applying loose powder,blush,bronzer.

2#-ANGLED BLUSH BRUSH
The sloping shape fits the contours of the cheekbones better. That makes it easier for you to apply blush and contour.
3#-FOUNDATION BRUSH
The bristles are very
soft and comfortable. Provides quick, detailed converge for an even, seamless finish.

4#-TAPERED BLENDING 
This brush is ideal for adding depth in the crease,and applying highlighter in small areas such as the nose, chin, temples,cheek.

5#-DEFINER FAN BRUSH
The brush bristles are soft and smooth with elasticity. The scalloped curved design is perfect for highlighting the face.

6#-SUMDGE BRUSH
A smudge brush is perfect for applying, and smudging, dense bursts of color. Whether you use it to blend in a kohl liner or heavily pigmented shadow, a smudge brush can help you apply color where you want it without a mess.

7#-DETAIL BRUSH
Whether you're delicately blending along the inner corners, drawing super-thin lines, adding highlight or blurring between the edges, just about any look is within reach with this makeup brush in your kit.

8#-SMALL EYE SHADOW
A flat, slightly pointed brush head. Suitable for eye shadow shading to give even color overlap.

9#-ANGLED LINER/EYEBROW BRUSH
A quite small brush with a line of short, dense bristles, and is slightly angled for the sharpest wing. It works well with pomade,gel or liquid liners.

10#-CONCEALER/LIP BRUSH
It's ideal for applying liquid/cream products around eyes and face to cover the black rim of eye and small blemishes.Ultra-firm with tapered a tip, defines the contours of the lip. Applies quickly and easily.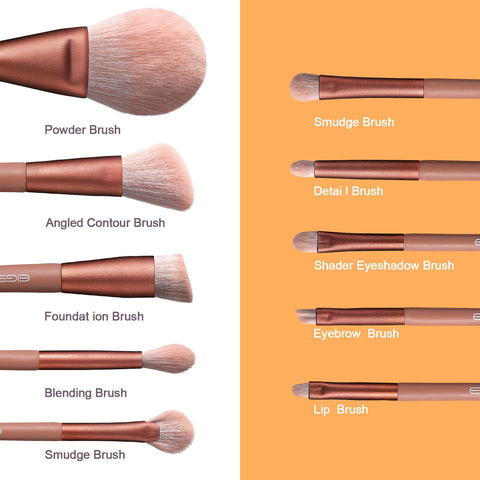 How to Clean Your Make Up Brush

Step 1:  Lay the brush face down with its bristles closest to running warm water. Pinch the bristle fibres and gently squeeze any makeup residue or excess water.

 

Step 2:  Place a dime-sized dollop of olive oil (for natural bristles)  and mild soap onto your palm or apply directly to the bristles after running under medium warm water to remove excess makeup.

Step 3: Massage the brush bristles onto the soap solution on your palm while letting the water run through the bristles. Move the brush bristles in a soft gentle circular motion.

Step 4: Once the running water through the bristles become clear, stop the water. Make sure you're not submerging the bristles or getting the ferrule wet.

Step 5:  Using a towel, softly squeeze out whatever excess water is left in the brush.  Air-dry the bristles in an area with free-flowing air.
Share